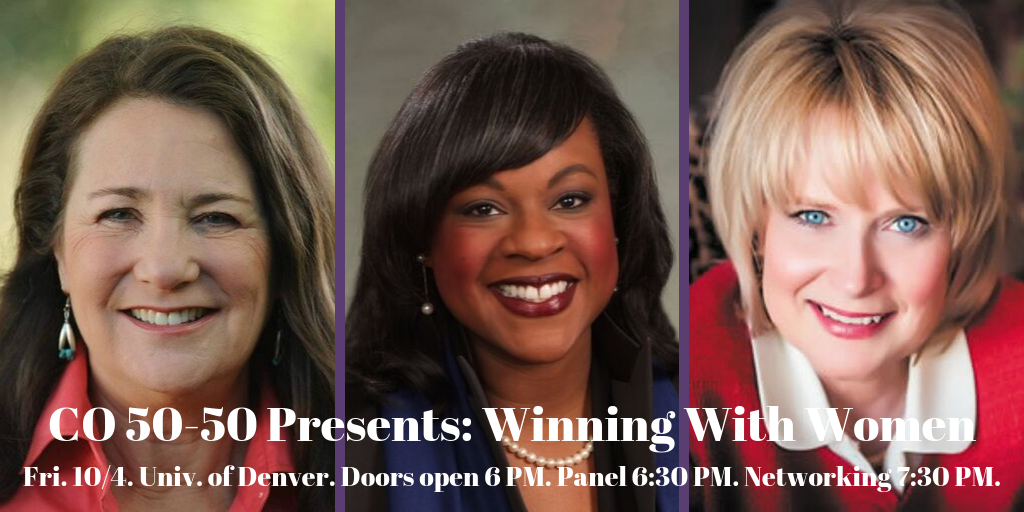 Colorado 50-50 presents a Friday, Oct. 4 event that will help demystify the process of running for office. Event organizers hope the panel discussion followed by networking will encourage more women to become candidates. The event – called Winning With Women – is being put on by Colorado 50-50, a nonpartisan group of concerned citizens that wants to promote gender parity in public life.
"When women run for office, they win just as often as men win," said Colorado 50-50 Founder Erin Hottenstein. "So why aren't more women in office? Because they don't run."
"Once women are in office, they're good for the system," she continued. "They seek more citizen input. They tend to facilitate and encourage cooperation."
Joining the panel discussion will be Democratic Congresswoman Diana DeGette, former Republican State Attorney General Cynthia Coffman, and Democratic State Representative Leslie Herod. DeGette was elected to Congress in 1996, continues to serve, and is running again in 2020. She is one of only four women in Colorado history to have served in Congress. Coffman was elected in 2014 and served four years, during which time she ran for governor. She is only one of two women in Colorado history to have served as Attorney General. Herod was elected to the state house in 2016, where she continues to serve. She was the first LGBTQ African-American to be elected to the state legislature.
After speaking at a Winning With Women training, former Fort Collins Mayor Susan Kirkpatrick shared, "When women are elected to public office, they get things done. Research suggests that women perceive and use power differently than men do. There are benefits to communities when women participate in public policy making."
The panel discussion will be followed by a networking session, which organizers hope will foster new connections among women who are curious about running and people who want to support women running for office.
Winning With Women takes place on Friday, Oct. 4, 6-9 p.m., at Lindsay Auditorium in Sturm Hall, University of Denver, 2000 E. Asbury, Denver, CO, 80208. Tickets are free for students with student ID, $15 regular admission, or higher amounts to cover students and support Colorado 50-50. Tickets can be purchased through EventBrite. Light refreshments will be served.
Childcare will be available for a small fee, provided that an RSVP is received by Oct.1. Scholarships are available. Please contact Erin Hottenstein at erin@colorado5050.org.
Paid parking is widely available at the DU campus. Lots 317 and 321 are closest to Sturm Hall; please see the campus parking map for more information. Guests can pay for parking in the visitor lots from their smart phones with the Park Mobile App. DU also has its own Light Rail stop located on the E-F-H lines.
Colorado 50-50 is grateful to the sponsors who are helping make this event possible: University of Denver, Electing Women PAC, League of Women Voters of Colorado, VoteRunLead, DU's Dept. of Economics, DU's Gender and Women's Studies Dept., DU's Dept. of Political Science, DU's Center on American Politics, DU's Media, Film, and Journalism Studies, DU's College of Arts, Humanities & Social Sciences, and InvestHER.